A new Limerick Food Heritage Tour runs all summer long from one of Ireland's favourite boutique hotels, No1 Pery Square, which gives a brief insight into the lives of Georgian Limerick dwellers, and takes guests on a walking tour to the Limerick Milk Market with some interesting stops along the way.
I joined the Saturday morning tour of a dozen or so curious types to get a taste of what was on offer for locals and tourists alike. Our group was made up of a lovely retired couple visiting from Sydney, two sisters in their 20s from Tipperary, four Spanish guests who are resident in Limerick – two of whom I had previously met on a walking tour for the Pigtown Culture & Food Series last year, a warm and friendly couple who had just recently bought a house in the Georgian area of the city. Two other local ladies made up the group, one of whom was living in the UK and a walking tour guide herself, so we had an interesting, eager bunch for our entertaining guide Fiona Kiely.
The meeting point is at No1 Pery Square, the boutique hotel in the heart of the Georgian Quarter, and after an introduction to the history of Georgian Limerick and the social and food trends from that era in Pery Square, we continued up Barrington Street and were led to O'Connell Avenue to admire the Georgian Crescent and around the corner to Leamy House and what is now the Frank McCourt Musuem.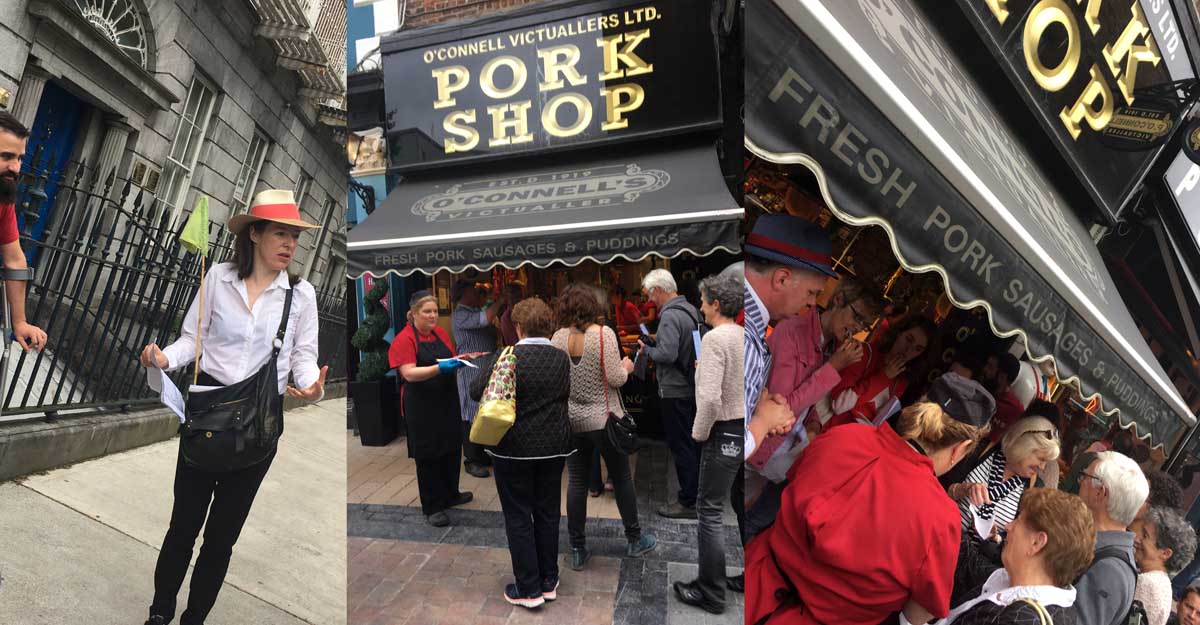 Making our way through the always resplendent People's Park and admiring some of the talking points en route, our next stop was O'Connell's Butchers on Little Catherine Street where we had a warm welcome from two of the team, Mary and Anton. Mary brought out a sample of their cooked meats to taste which included honey roast ham, roast beef and corned beef, while Anton gave us a rundown on the history of O'Connell's, why it is divided into two shops – one a pork butchers traditionally, and the other for the rest of the meat offerings – and how it operates nowadays. Award-winning on a national and international level, the focus here is on serving local and quality products and there's a reason it is one of the busiest butchers around. (You should see the queues here at Christmas time!)
The next visit was to M Cahill's on Wickham Street, one of Limerick's oldest shops. Historically a renowned tobacconist since 1870, as times have changed this business has responded and now sells over 100 specialty loose leaf teas in a quaint emporium that still also stocks some tobacco paraphernalia amid the tea pots and tea drinking accessories. Proprietor Eleanor Purcell hosted a tasting for our group of a select four, from tisanes (what most of us refer to as herbal teas) to familiar black and other interesting blends. The smells from the glass tea jars filled with colourful leaves are delicious and our jovial host was filled with information about the world of 'real tea' which is enjoying a revival in Ireland as the growing passion for our food and drink culture makes us more and more curious about everything that passes our lips.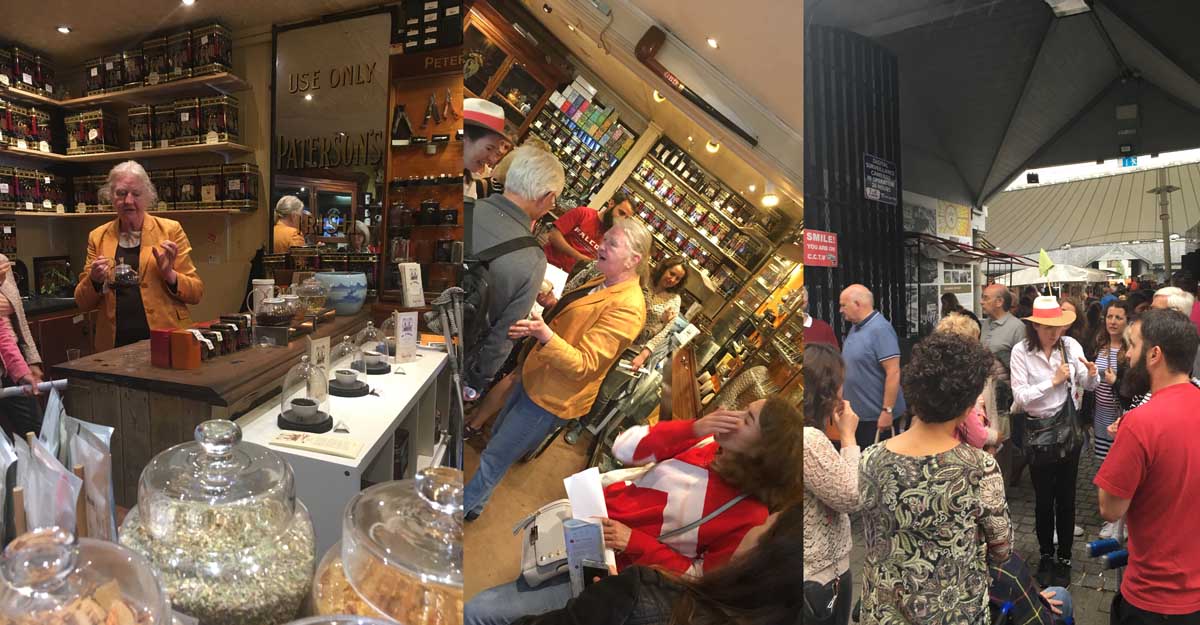 The tea tasting washed down the meat sampling perfectly and the group's last stop was at Limerick Milk Market and its famous Saturday morning food market – the oldest weekly market in Ireland which dates back to 1852. Guide Fiona gave us a brief introduction before letting us off to explore the sights, sounds, smells and tastes of the market in what is a huge Limerick tradition every week and a very social spot, wrapping up a charming tour as we said our goodbyes.
At just €15.00 per person (plus booking fee if paid online), the tour is well worth doing for visitors and locals alike for a glimpse into Limerick's food heritage from historic Georgian times leading up to today. The Limerick Food Heritage Tour runs every Saturday morning for the summer months, leaving No1 Pery Square at 10.30am and includes sampling, plus a beautifully illustrated custom designed map of the route.
Kudos to Patricia and team at No1 Pery Square who have created the tour, it's a wonderful idea to combine Limerick's architectural history and food heritage with some local purveyors, to offer something experiential for the summer visitor, an immersive local experience based around Limerick food.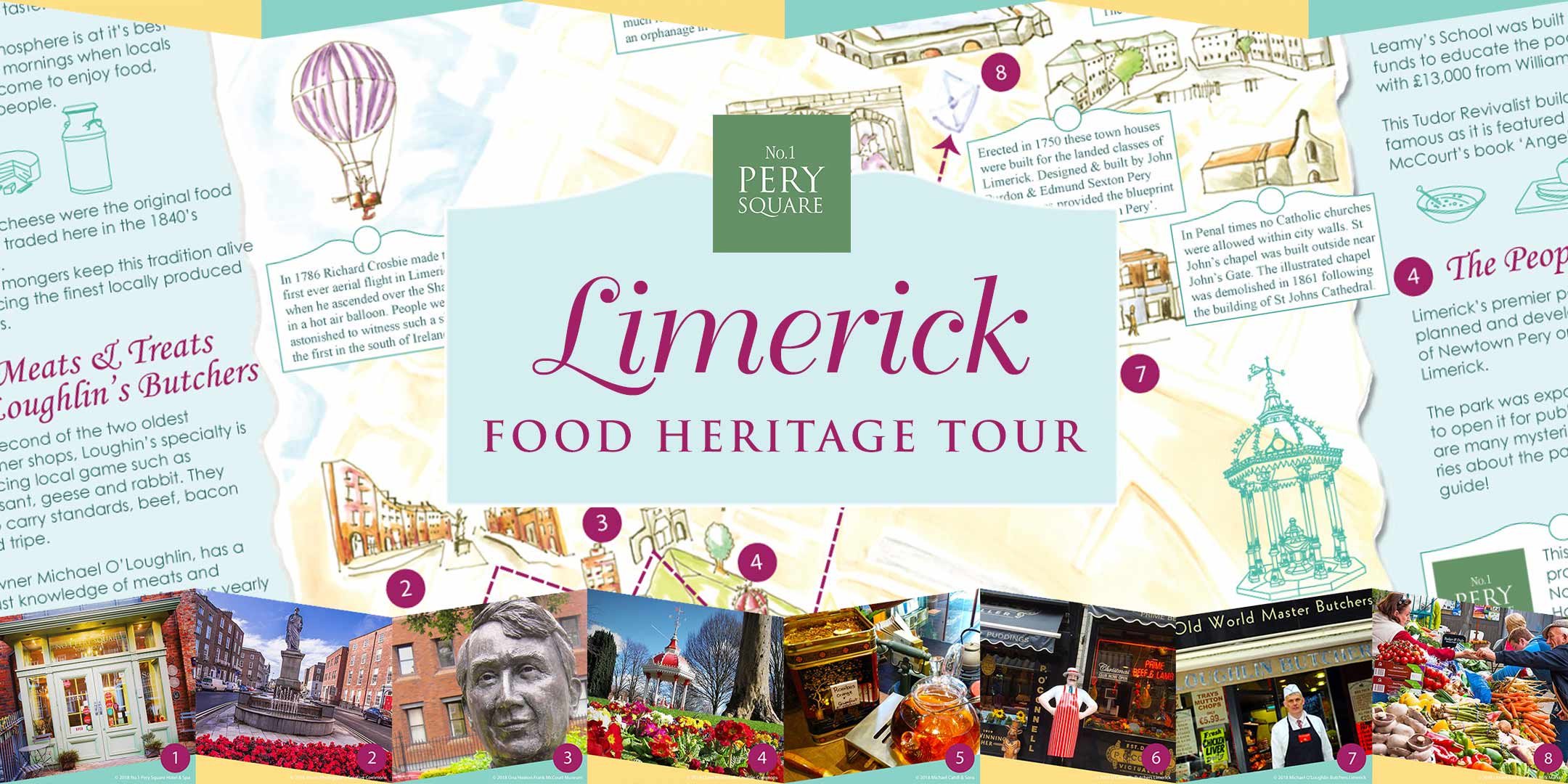 By Olivia O'Sullivan